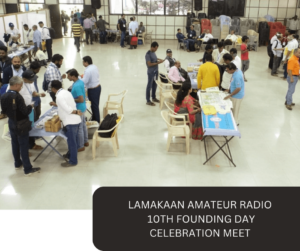 Lamakaan Amateur Radio Club will celebrate its 10th Founding Day on September 10th, 2023. The celebration will feature a full day of Meet & Greet activities from 10 AM to 5 PM. Registration is completely free and open to all radio and electronics enthusiasts.
Additionally, there will be an open Flea Market for anyone interested. You're welcome to join and exchange your items as well. To register, please click on the following link: Registration Link.
Established in 2011, the Lamakaan Amateur Radio Club successfully drew in amateur radio enthusiasts from across the nation. This was largely thanks to the engaging lectures and practical workshops conducted by VU2ESE on his popular Bitx series of transceivers.