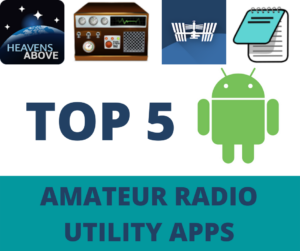 Here's our pick of 5 must-have amateur radio utility apps for your android apps. Need to do some quick antenna calculations on a field trip, tracking amateur radio satellites or just log your QSOs easily on your phone and export them later to your PC. These 5 apps cover everything!
This simple ham radio logbook allows you to quickly and easily log contacts. Date and time are automatically entered, as well as the last used frequency, power, and mode for quick contest entry. Search through your logbook for a particular station, export in ADIF format, or share your logs between Android devices with the database import/export feature.
ISS Detector will tell you when and where to look for the International Space Station. You get an alarm a few minutes before a pass. You will never miss it. ISS Detector will also check if the weather conditions are right. A clear sky is perfect for spotting. We especially liked the alarm featured! Must have for amateur satellite enthusiasts!
Amateur Radio Toolkit is the best app for ham radio hobbyists. It contains many calculators to help you design radios and antennas for all your projects. This is like a swiss knife for designing any kind of antenna on a field day.
Ham Radio Tools is a simple program that is to assist ham radio operators. Ham Radio Tools comes complete with a contact log and handy calculators and tables.
Heavens-Above app provides you with precise pass predictions for the ISS, visible satellites and radio satellites. Live sky chart, Pass predictions, Radio satellites Comets, Satellite details and much more!
Did we miss anything? Write in the comments!