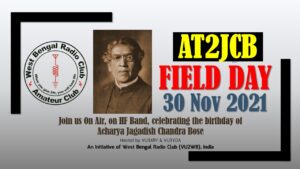 A special field day is scheduled for 30th November commemorating the contributions of Dr Jagdish Chandra Bose in the field of wireless/radio development. This year marks the 163rd birth anniversary of India's first radio physicist.
West Bengal Amateur Radio Club (VU2WB) will be operating on amateur bands 20 meters, 40 meters & 80 Meters ( depending on band/propagation conditions). Look out for the special callsign AT2JCB allocated to WBRC for this event.
Here's the QRZ page for the event: https://www.qrz.com/db/AT2JCB
Do you think It's Ham Radio is worth subscribing to?