The original firmware offered by HF Signals for the uBITX  was quite basic, and the idea was always for other hobbyists to take the lead in expanding it. Dr. Ian Lee (KD8CEC) developed an enhanced version of the firmware for Farhan's most popular radio! Now this was 3.5 years back!
Unfortunately, and unlike all the rest of the KD8CEC family of software, the source code to the uBITX Memory manager was never released nor was it natively ported to platforms other than Windows. The last release of the tool (V1.110) happened around 3.5 years back.
This firmware provides improved graphical user interfaces based on Nextion touchscreens and more features than the original firmware. However, the enhanced functionality of the KD8CEC software is of limited value without a tool to easily customize it to the user's requirements. For instance, setting the CW keyer speed through the GUI is feasible, but modifying other parameters like automated keyer messages, using the uBITX as a WSPR beacon, or informing your external linear amplifier of the band you're sending on is not practical at the radio itself. Therefore, a tool is necessary to tailor the uBITX's settings to meet your needs.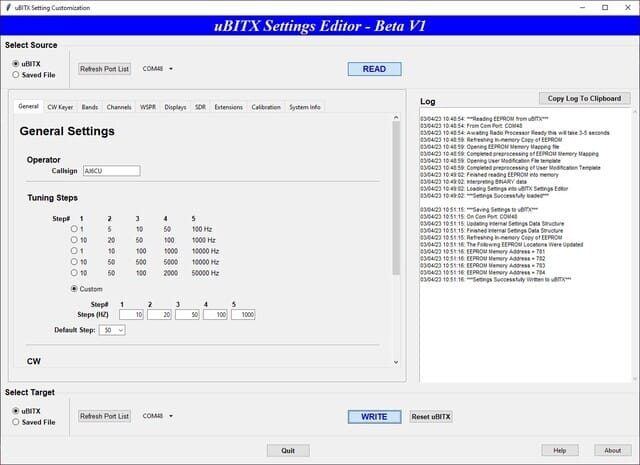 Now that's that's exactly where AJ6CU – Mark Hatch comes in.  Mark is able to reverse engineer & fix the bugs from the original uBITX Manager and the best part is – We now have a fully open source cross platform GUI tool to easily manage all the intricacies of this world's most popular hackable radio.
uBITX Memory Manager provides the means to manage the system parameters that the KD8CEC software maintains in EEPROM ( that's the Arduino Nano Chip). As of the now, this project hopes to make this tool work with other microcontrollers and not just stick with the Nano.
Mark's uBITX Memory Manager also provides the critical ability to backup and restore the contents of the EEPROM.
Here's the links you need to get this started.
Happy Modding!
73s
https://github.com/AJ6CU/uBITX-EEPROM-Manager/releases/download/V2-beta-1/uBITX.Settings.Editor.User.Manual.pdf
https://github.com/AJ6CU/uBITX-EEPROM-Manager/releases
https://groups.io/g/BITX20/topic/announce_beta_release_of/97391372