Radio Amateurs from Bharat Scouts & Guides setup a special callsign station AT18BSG on the sidelines of the 18th National Jamboree of Bharat Scouts & Guides.
The 18th National Jamboree of Bharat Scouts & Guides is held at Rohat. Pali, Rajasthan from 4th to 10th January 2023.
The 7 day long event was inaugurated by The President of India – Droupadi Murmu.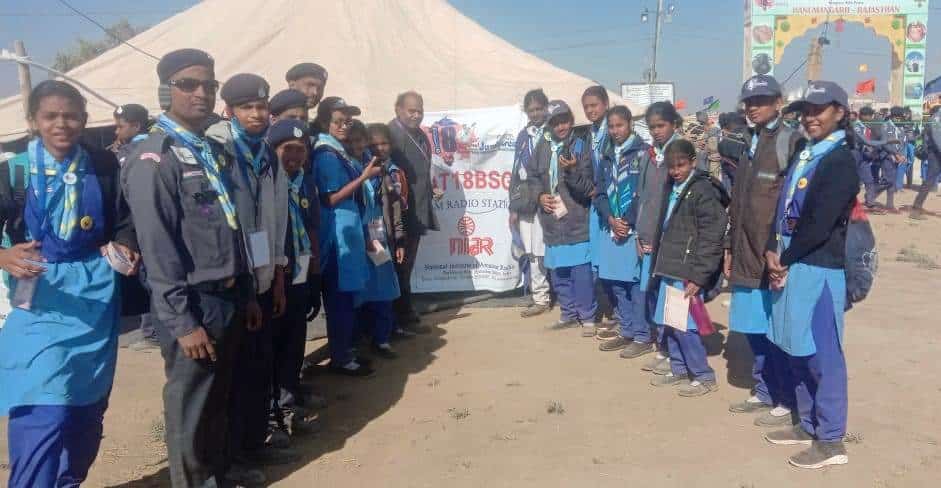 National Institute of Amateur Radio (NIAR) has put up a stall at the event to introduce Amateur Radio to the participants. During the Jamboree each Scout & Guide has to complete Ham Radio activity to earn intellectual based activity award.
The station was available was available on 20 Meters Band –  14160 kHz and on VHF & UHF.
Mr.S.Ram Mohan VU2MYH and Mr. Mukesh Kumar Gola are representing NIAR at the event. There are about 2 dozen other hams from Bharat Scouts & Guides also attending the same.
NIAR has been regularly participating in the National Jamborees of BSG which is held every four years.
The Jamboree is a National level gathering of the Scouts and Guides conducted once in 4 years or to mark special occasions. The Jamboree gives the Scouts and Guides an opportunity to interact with the youth from different states of India and from abroad.
About 35000 Scouts, Guides and Adult Leaders of the Organization from different corners of the country and some other countries are participating in this Mega Event.
Source: Jose Jacob –  VU2 JOS – National Inistitute of Amateur Radio